NAIWMC - Formation and its activities through 1975
Keywords:
Weather Modification Research, Weather Modification Operations
Abstract
Governor Richard F. Kneip of South Dakota invited the Governors of the United States to attend or be represented at a  June 10-12, 1974 conference in Sioux Falls, South Dakota on  "Weather Modification in the United States -- Potential and  Problems for Interstate Action". Governor Kneip recognized the need for the prudent design and critical analysis of all weather modification  efforts. He pointed out that interstate cooperation is particularly  needed in view of the growing importance of agricultural production to the economy and well-being of the people of all states, and the  tendency to develop individual state weather modification programs.....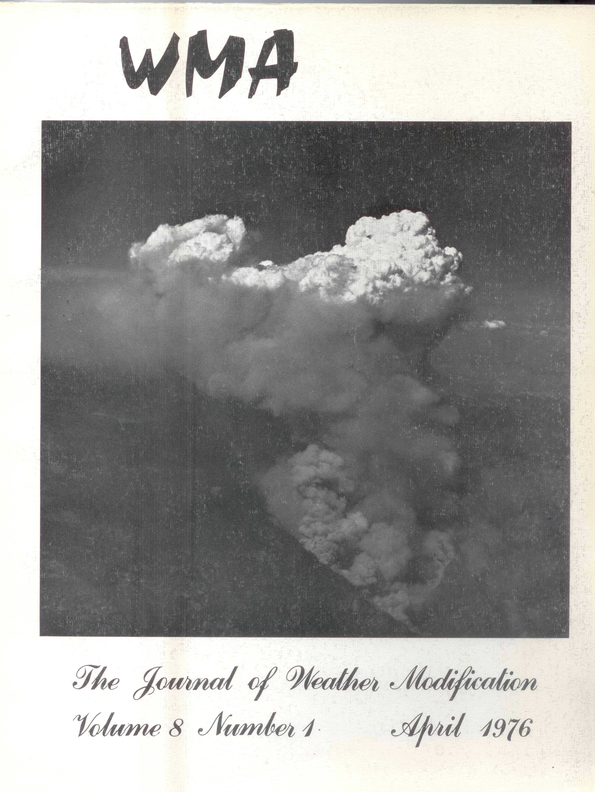 Downloads
Section
Technical Notes and Correspondence
License
Authors that submit papers for publication agree to the Journal's copyright and publication terms. Authors retain copyright and grant the journal right of first publication with the work simultaneously licensed under a Creative Commons Attribution License that allows others to share the work with an acknowledgement of the manuscript's authorship and initial publication in Journal of Weather Modification. Authors are able to enter into separate, additional contractual arrangements for the non-exclusive distribution of the journal's published version of the work (e.g., post it to an institutional repository or publish it in a book), with an acknowledgement of its initial publication in the Journal of Weather Modification. Authors are permitted to post their work online (e.g., in institutional repositories or on their website) prior to and during the submission process to encourage productive exchanges and greater citation of the published article.
Articles are published online using restricted access for the first year. After the first year, articles are made freely available online. Immediate open access for an article may be obtained by the author paying an open access fee which is in addition to the normal page changes. Authors are expected to honor a page charge in order to support publication and distribution of the journal. After the author approves the gallery formatted version for publication, the Weather Modification Association's Secretary will invoice the corresponding author for the page charges and payment is due within 30 days.