Studies of the Influence of Explosion upon the Development Processes of Convective Clouds
Abstract
Hail suppression by the explosion method has been used for many years in China. Generally the small gun, small rocket, and anti-aircraft gun are used as delivery systems. According to the analysis of data in some counties of China (1, 2) hail suppression by the explosion method has obtained some successes in the reduction of hail damage. However, the question of the actual influence of explosions on hail clouds still remains unknown. Vittori (3) noticed the mechanical effect of shock wave on hailstones (mechanism of cavitation). Goyer (4) had demonstrated that the mechanical effect of weak shock waves can induce freezing in supercooled water. However, the experience of hail suppression in China indicated that the explosion can rapidly induce the formation of such phenomena as precipitation, hole in the cloud, weakness of cloud intensity, etc. (5, 6, and 7). These phenomena cannot be explained by the above mentioned mechanism. Since 1972 a series of simulated and field experiments have been conducted for purposes of clarifying the physical influence factors of explosions on the development of convective clouds.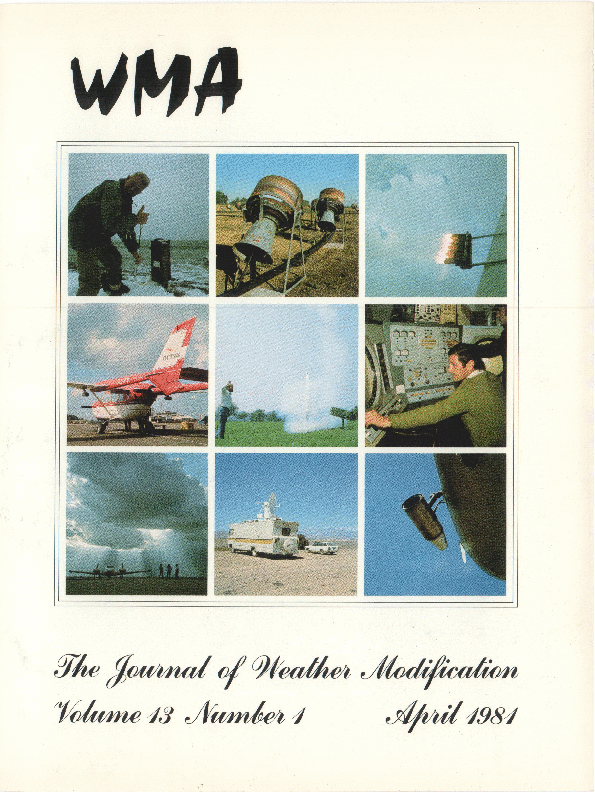 Downloads
Section
Technical Notes and Correspondence
License
Authors that submit papers for publication agree to the Journal's copyright and publication terms. Authors retain copyright and grant the journal right of first publication with the work simultaneously licensed under a Creative Commons Attribution License that allows others to share the work with an acknowledgement of the manuscript's authorship and initial publication in Journal of Weather Modification. Authors are able to enter into separate, additional contractual arrangements for the non-exclusive distribution of the journal's published version of the work (e.g., post it to an institutional repository or publish it in a book), with an acknowledgement of its initial publication in the Journal of Weather Modification. Authors are permitted to post their work online (e.g., in institutional repositories or on their website) prior to and during the submission process to encourage productive exchanges and greater citation of the published article.
Articles are published online using restricted access for the first year. After the first year, articles are made freely available online. Immediate open access for an article may be obtained by the author paying an open access fee which is in addition to the normal page changes. Authors are expected to honor a page charge in order to support publication and distribution of the journal. After the author approves the gallery formatted version for publication, the Weather Modification Association's Secretary will invoice the corresponding author for the page charges and payment is due within 30 days.