The present status and future potential of hail suppression
Keywords:
Weather Modification Research, Weather Modification Operations
Abstract
Hail suppression activities in the United States during the mid-1970's are at a critical crossroads. Since 1972 there has been  moderately widespread use of hail suppression, covering up to  170,000 km~ of the Great Plains. After 4 years of a nearby  statewide operational suppression program in South Dakota, the effort has ended in 1976 by a political controversy. Major United  States experimentation in hail suppression, needed to reveal the in-cloud modification processes and to help verify or refute a  suppression hypothesis, has temporarily faltered after four years of activity in northeast Colorado. Efforts to sustain a national  hail suppression research effort and to design a new experiment  continue, but a second non-experimental year is in the offing  and the future is not yet resolved. However, individual and  group (state) desires to employ an uncertain technology that  could increase agricultural production seem more likely now than in past years because of the world food situation and generally  higher prices for crops, recent extremely high hail losses in the  Midwest, missions of certain federal agencies, international  competition over weather modification, and a general  improvement in the scientific understanding of hailstorms.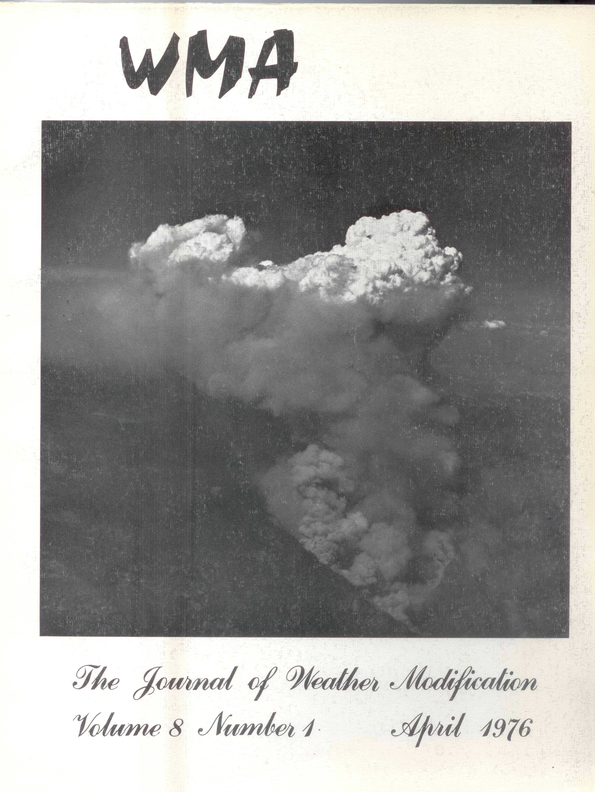 Downloads
Section
Technical Notes and Correspondence
License
Authors that submit papers for publication agree to the Journal's copyright and publication terms. Authors retain copyright and grant the journal right of first publication with the work simultaneously licensed under a Creative Commons Attribution License that allows others to share the work with an acknowledgement of the manuscript's authorship and initial publication in Journal of Weather Modification. Authors are able to enter into separate, additional contractual arrangements for the non-exclusive distribution of the journal's published version of the work (e.g., post it to an institutional repository or publish it in a book), with an acknowledgement of its initial publication in the Journal of Weather Modification. Authors are permitted to post their work online (e.g., in institutional repositories or on their website) prior to and during the submission process to encourage productive exchanges and greater citation of the published article.
Articles are published online using restricted access for the first year. After the first year, articles are made freely available online. Immediate open access for an article may be obtained by the author paying an open access fee which is in addition to the normal page changes. Authors are expected to honor a page charge in order to support publication and distribution of the journal. After the author approves the gallery formatted version for publication, the Weather Modification Association's Secretary will invoice the corresponding author for the page charges and payment is due within 30 days.