Organic ice nuclei field tests: South Dakota and Leadville cooperative projects, Summer 1975
Keywords:
Weather Modification Research, Instrumentation
Abstract
Organic ice nucleants offer the prospect of effective and  ecologically safe cloud seeding materials at much lower cost  than silver iodide. We have been developing practical ice nuclei  generators for three selected organic nucleants:  1,5-dihydroxynaphthalene (DN), phloroglucinol (PG), and  metaldyhyde (MA). In the summer of 1975, we participated in two separate field experiments to investigate the effectiveness of DN for cumulus seeding. Both experiments used the airborne  jet-mixing organic smoke generator described by Fukuta et ai.  The first experiment, denoted "Special Organic Field Tests"  (SOFT) was carried out in June and July in Butte and Meade  counties in South Dakota, just north and east of the Black Hills.  It was a randomized experiment using radar, visual and  photographic observations to detect seeding effects. The second  experiment, extending from mid-July to early August, was  headquartered in Leadville, Colorado. Seeding and tracer  materials were released at cloud base and the NCAR sailplane  "Explorer" gathered quantitative data on ice nuclei, ice crystal,  and tracer concentrations in a small number of seeded clouds. We describe the SOFT experiment in some detail here, and then give preliminary results from the Leadville experiment.....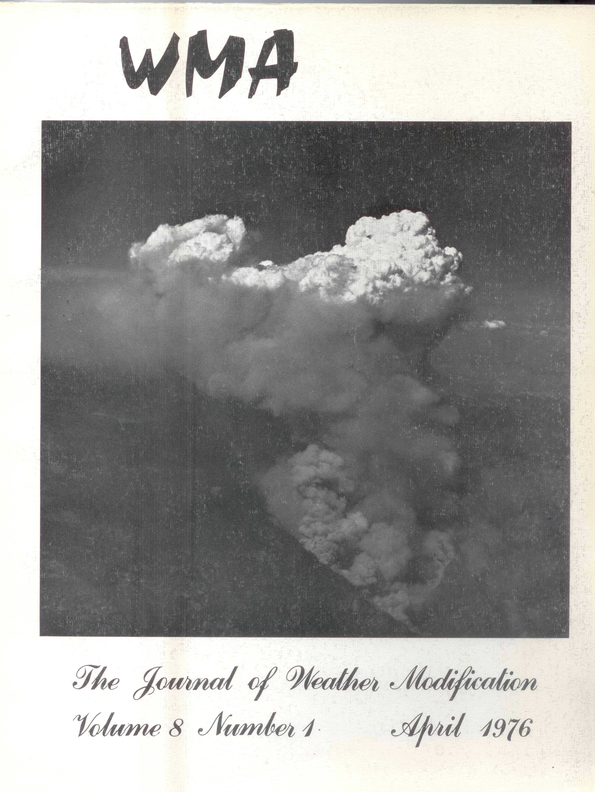 Downloads
Section
Technical Notes and Correspondence
License
Authors that submit papers for publication agree to the Journal's copyright and publication terms. Authors retain copyright and grant the journal right of first publication with the work simultaneously licensed under a Creative Commons Attribution License that allows others to share the work with an acknowledgement of the manuscript's authorship and initial publication in Journal of Weather Modification. Authors are able to enter into separate, additional contractual arrangements for the non-exclusive distribution of the journal's published version of the work (e.g., post it to an institutional repository or publish it in a book), with an acknowledgement of its initial publication in the Journal of Weather Modification. Authors are permitted to post their work online (e.g., in institutional repositories or on their website) prior to and during the submission process to encourage productive exchanges and greater citation of the published article.
Articles are published online using restricted access for the first year. After the first year, articles are made freely available online. Immediate open access for an article may be obtained by the author paying an open access fee which is in addition to the normal page changes. Authors are expected to honor a page charge in order to support publication and distribution of the journal. After the author approves the gallery formatted version for publication, the Weather Modification Association's Secretary will invoice the corresponding author for the page charges and payment is due within 30 days.