An Overview of the 2016 Rainfall Enhancement Activities in Texas: A More Intensive Use of Hygroscopic Material
Keywords:
Weather Modification Research, Texas, rain enhancement, hygroscopic, seasonal overview, Weather Modification Operations, 2016
Abstract
The Texas Weather Modification Association oversees four rainfall enhancement projects which combined have completed their 21st season in 2016.  These projects include the Panhandle Groundwater Conservation District, the South Texas Weather Modification Association, the Trans-Pecos Weather Modification Association, and the West Texas Weather Modification Association.  Classic Thunderstorm Identification, Tracking, Analysis and Nowcasting evaluation of seeded and control clouds for each project are analyzed to determine the effect seeding operations had on different cloud variables.  A more recent evaluation analysis examining the results of dual seeding (hygroscopic plus glaciogenic material) compared to seeding with only glaciogenic material.  Excellent results were achieved during the 2016 season with average precipitation increases of 1.34 inches above seasonal value, and over 2 million acre-feet of addition precipitation from cloud seeding activities.  An analysis of hygroscopic seeding continues to show its importance for effective seeding operations. Clouds seeded with both glaciogenic and hygroscopic material lasted longer and produced more precipitation than similar clouds seeded with only glaciogenic material.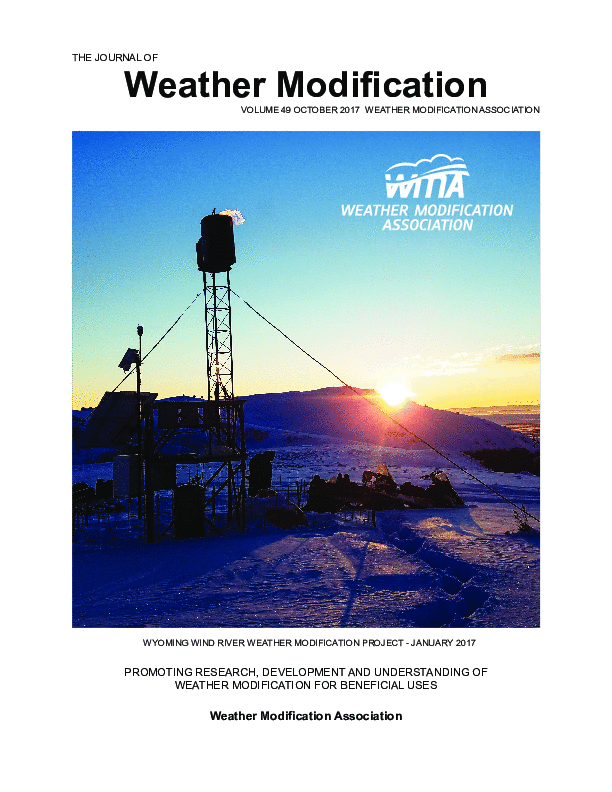 Downloads
Section
Technical Notes and Correspondence
License
Authors that submit papers for publication agree to the Journal's copyright and publication terms. Authors retain copyright and grant the journal right of first publication with the work simultaneously licensed under a Creative Commons Attribution License that allows others to share the work with an acknowledgement of the manuscript's authorship and initial publication in Journal of Weather Modification. Authors are able to enter into separate, additional contractual arrangements for the non-exclusive distribution of the journal's published version of the work (e.g., post it to an institutional repository or publish it in a book), with an acknowledgement of its initial publication in the Journal of Weather Modification. Authors are permitted to post their work online (e.g., in institutional repositories or on their website) prior to and during the submission process to encourage productive exchanges and greater citation of the published article.
Articles are published online using restricted access for the first year. After the first year, articles are made freely available online. Immediate open access for an article may be obtained by the author paying an open access fee which is in addition to the normal page changes. Authors are expected to honor a page charge in order to support publication and distribution of the journal. After the author approves the gallery formatted version for publication, the Weather Modification Association's Secretary will invoice the corresponding author for the page charges and payment is due within 30 days.