The UAE Seeks Leading Position in Global Rain Enhancement Research
Keywords:
Rain Enhancement
Abstract
Rain enhancement offers an unrealised potential for arid and semi-arid countries and beyond, to ensure sustainable water supplies for countries suffering from shortages. Cloud seeding operations have been conducted in the UAE since the 1990s and continue today with 6 Beechcraft King Air C90 aircrafts.
The UAE Research Program for Rain Enhancement Science is an initiative of the UAE Ministry of Presidential Affairs, overseen by the National Center of Meteorology and Seismology (NCMS), that offers a grant of US$ 5 million over a three-year period, to be shared by up to five winning research proposals, selected by a two-stage merit review decision process.
The aim is to enhance and further develop capacity in the field both locally and globally by developing research and operational capacities while spurring global research collaborations in the region. Due to the success of the Program, ground-breaking work is already being carried out on precipitation enhancement through the use of nanotechnology, land cover modification, innovative algorithms, ice production processes, aerosols optimization and observation of the electrical aspects of rain generation.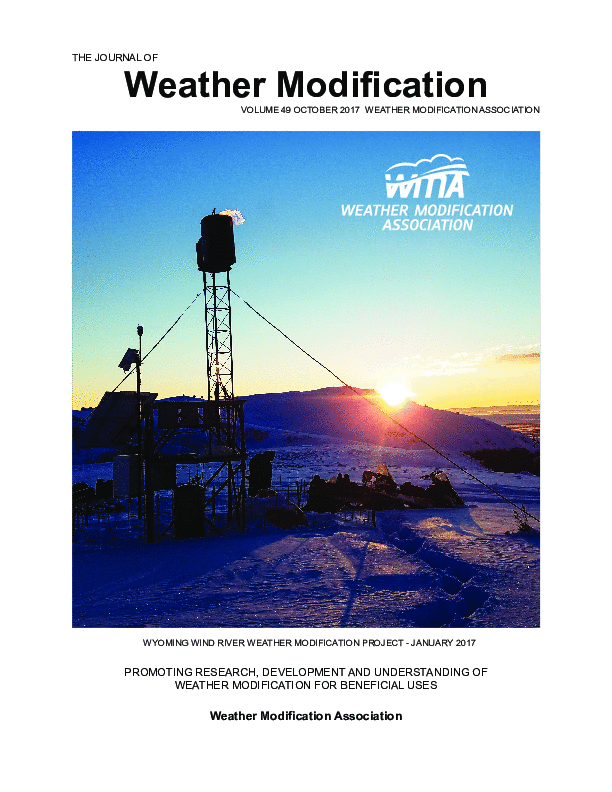 Downloads
Section
Technical Notes and Correspondence
License
Authors that submit papers for publication agree to the Journal's copyright and publication terms. Authors retain copyright and grant the journal right of first publication with the work simultaneously licensed under a Creative Commons Attribution License that allows others to share the work with an acknowledgement of the manuscript's authorship and initial publication in Journal of Weather Modification. Authors are able to enter into separate, additional contractual arrangements for the non-exclusive distribution of the journal's published version of the work (e.g., post it to an institutional repository or publish it in a book), with an acknowledgement of its initial publication in the Journal of Weather Modification. Authors are permitted to post their work online (e.g., in institutional repositories or on their website) prior to and during the submission process to encourage productive exchanges and greater citation of the published article.
Articles are published online using restricted access for the first year. After the first year, articles are made freely available online. Immediate open access for an article may be obtained by the author paying an open access fee which is in addition to the normal page changes. Authors are expected to honor a page charge in order to support publication and distribution of the journal. After the author approves the gallery formatted version for publication, the Weather Modification Association's Secretary will invoice the corresponding author for the page charges and payment is due within 30 days.