Feasibility/Design Study for a Winter Cloud Seeding Program for the Abajo and La Sal Mountain Ranges, Utah
Keywords:
Weather Modification Research
Abstract
North American Weather Consultants received funding from the three Lower Colorado River Basin States (Arizona, California and Nevada) to perform a feasibility/design study for a winter cloud seeding program. The proposed program would target two smaller mountain barriers located in southeastern Utah, the Abajo and La Sal Ranges. The Lower Basin States are interested in these barriers since they contribute runoff to the Colorado River. American Society of Civil Engineers (ASCE) guidelines were followed in the conduct of the study. NAWC complied site-specific climatology's for these two barriers with a focus on parameters of interest in the design of cloud seeding programs. Both ground-based and airborne seeding modes, utilizing silver iodide, were considered and both recommended for deployment depending upon the funding that might be available to conduct a program. Estimates of increases in precipitation and resultant increases in streamflow were made. An estimated total of 10,852 acre feet of additional annual runoff in an average year was calculated. Benefit to cost studies were performed. One study concluded that the program would not be economically feasible to local agricultural interest near the two barriers. A NAWC analysis suggested that a program would be economically feasible for downstream water users driven by the value of streamflow that would enter Lake Powell. A cloud seeding program designed to target winter storms affecting the Abajo and La Sal Mountain Ranges was considered technically feasible. Such a program was also considered economically feasible but only if the predicated augmented streamflow reaches Lake Powell. According to the two primary criteria established by the ASCE (technical and economical), the proposed program was therefore considered conditionally feasible. One winter season of data collection and analysis of microwave radiometer observations in the Moab, Utah area was recommended.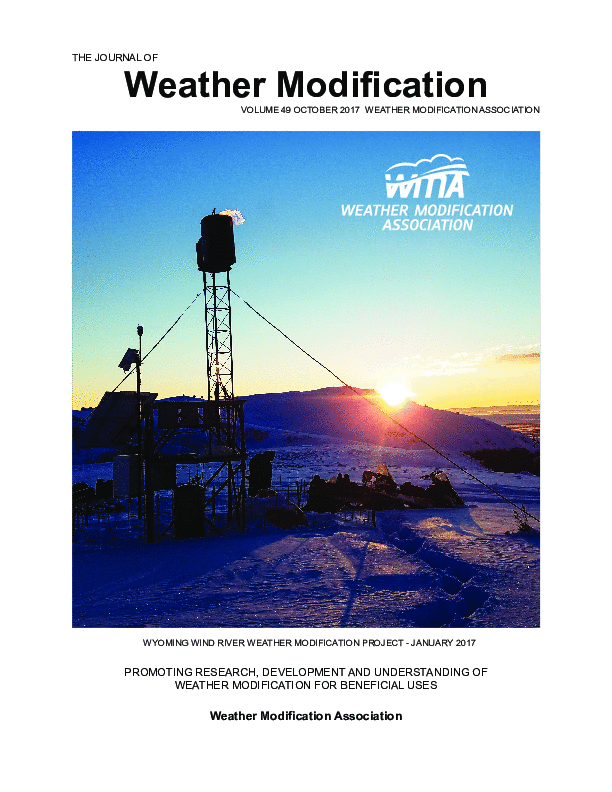 Downloads
Section
Scientific Papers
License
Authors that submit papers for publication agree to the Journal's copyright and publication terms. Authors retain copyright and grant the journal right of first publication with the work simultaneously licensed under a Creative Commons Attribution License that allows others to share the work with an acknowledgement of the manuscript's authorship and initial publication in Journal of Weather Modification. Authors are able to enter into separate, additional contractual arrangements for the non-exclusive distribution of the journal's published version of the work (e.g., post it to an institutional repository or publish it in a book), with an acknowledgement of its initial publication in the Journal of Weather Modification. Authors are permitted to post their work online (e.g., in institutional repositories or on their website) prior to and during the submission process to encourage productive exchanges and greater citation of the published article.
Articles are published online using restricted access for the first year. After the first year, articles are made freely available online. Immediate open access for an article may be obtained by the author paying an open access fee which is in addition to the normal page changes. Authors are expected to honor a page charge in order to support publication and distribution of the journal. After the author approves the gallery formatted version for publication, the Weather Modification Association's Secretary will invoice the corresponding author for the page charges and payment is due within 30 days.