The Precipitation Stimulation Project of the City of New York, 1950
Abstract
     World War II upset New York City's plans for water supply development, and by 1946 demand exceeded minimum safe yield. Through 3 years of normal rainfall the city stayed lucky. Then in 1949 drought struck. LIFE ran a photograph showing stone walls on the bottom of Croton Reseroir that had been covered since 1852. By Christmas, Cardinal Spellman had asked the faithful to pray for rain, Mayor O'Dwyer had outlawed car-washing, and Water Commissioner Steve Carney had launched Shaveless Fridays. Restaurants served water only on request.  
     On January 25, 1950, when Irving Langmuir read a paper at a New York meeting of the American Meteerological Society, reporters were ready. Could cloud seeding help the city? "Highly probable," said Langmuir. "* * * ought to be consulted," said a New York Times editorial.  In mid-February, Langmuir came to visitCarney. When they emerged from the Commissioner's office to face the reporters, they were smiling. No, for liabilityreasons General Electric would not seed the city's clouds, but they would recommend "a meteorologist of the new school of thinking."       That day Vince Schaefer telephoned me. ."You might get a call from NewYork City," he said. I called Ken Spengler for advice, not knowing at the time that he had been in close touch with Dr. Reichelderfer, Chief of the Weather Bureau, about how to keep the city's enthusiasm from going off the track. "It might as well be you," he told me, and added "It would benefit the profession if you asked a top fee, $100 a day."
     The LaGuardia terminal had just opened. When I got off the airplane there a few days later, I hurried through its cold, sagging arms where the fill was still settling, unaware that a red-carpet delegation with reporters in attendance was waiting to conduct me to the Mayor's office.  By bus and subway, I beat them to City Hall. On February 21st O'Dwyer announced my appointment as special rainmaking consultant, and by March 15th a plan of action had been agreed upon and funds appropriated. Weather modification turned over a new leaf.
     Exactly a week later, a process server handed O'Dwyer a summons a suit to keep the in city from spoiling the tourist season in the Catskills.  No restraining order was issued, so the city would go ahead anyway. For once, justice moved swiftly.  On May llth,Justice Pecora for the NewYork Appeals Court handed down the first weather modification decision in history.
     "This Court must balance the conflicting interestsbetween a remote possibility of inconvenience to the plaintiffs'resort and its guests with the problem of maintaining and supplying the inhabitants of the city of New York and surrounding areas, with a population of 10 million inhabitants, with an adequate supply of pure and wholesome water. The relief which the plaintiffsask is opposed to the general welfare and the public good; and thedangers which plaintiffs apprehend are purely speculative. This Court will not prevent a possible private injury at the expense of a possible public advantage."
     Then the Palisades Amusement Park offered me $200 a day to quit.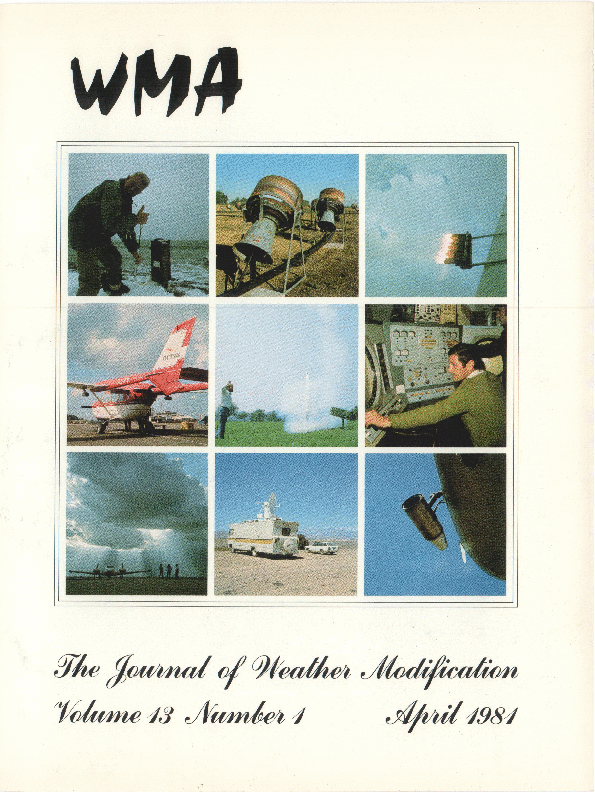 Downloads
Section
Scientific Papers
License
Authors that submit papers for publication agree to the Journal's copyright and publication terms. Authors retain copyright and grant the journal right of first publication with the work simultaneously licensed under a Creative Commons Attribution License that allows others to share the work with an acknowledgement of the manuscript's authorship and initial publication in Journal of Weather Modification. Authors are able to enter into separate, additional contractual arrangements for the non-exclusive distribution of the journal's published version of the work (e.g., post it to an institutional repository or publish it in a book), with an acknowledgement of its initial publication in the Journal of Weather Modification. Authors are permitted to post their work online (e.g., in institutional repositories or on their website) prior to and during the submission process to encourage productive exchanges and greater citation of the published article.
Articles are published online using restricted access for the first year. After the first year, articles are made freely available online. Immediate open access for an article may be obtained by the author paying an open access fee which is in addition to the normal page changes. Authors are expected to honor a page charge in order to support publication and distribution of the journal. After the author approves the gallery formatted version for publication, the Weather Modification Association's Secretary will invoice the corresponding author for the page charges and payment is due within 30 days.